About Us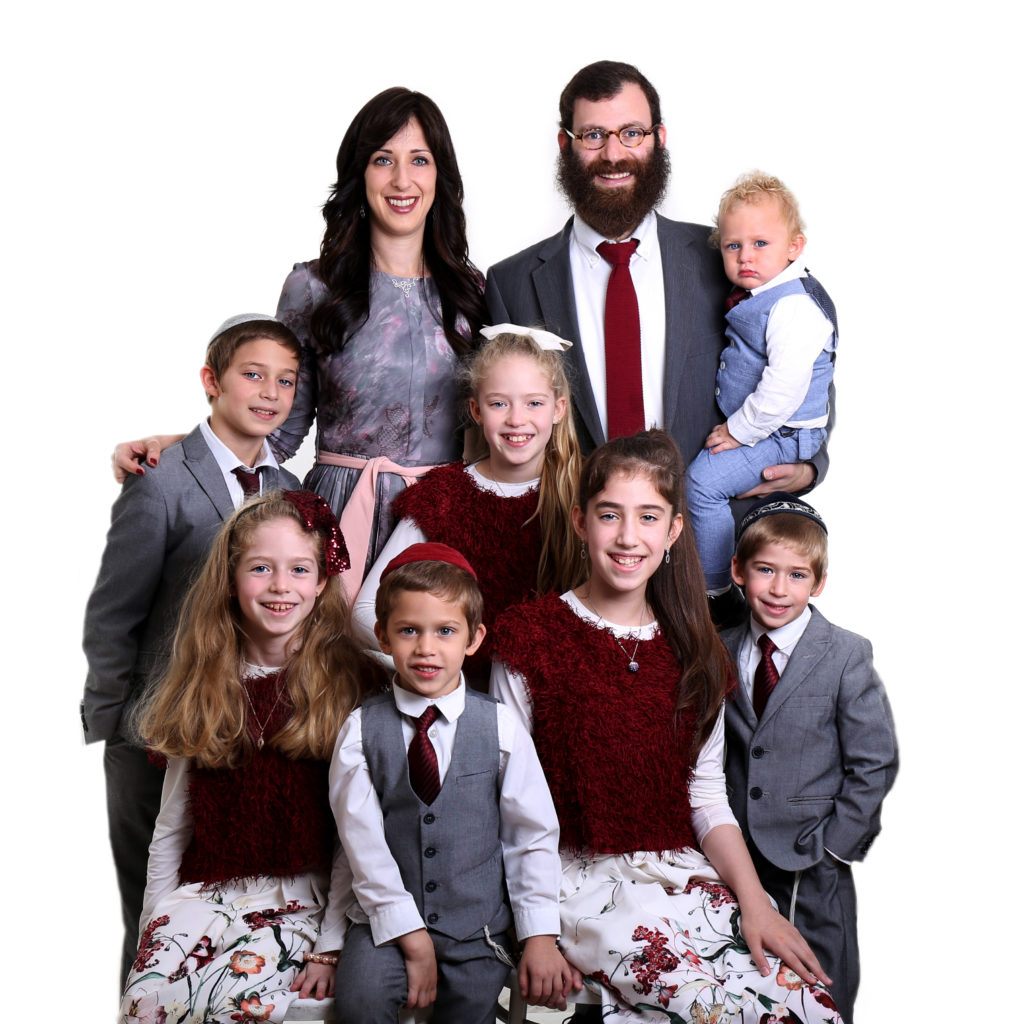 Rabbi Shmuli & Tzivia Brown & family moved to Liverpool in the summer of 2010 to open the door of Judaism to all Jewish students and faculty at Liverpool Universities, and establish a Chabad House, a place where Jews of all backgrounds and degrees of observance can enjoy exploring their Jewish heritage in a warm, welcoming and non-judgmental environment.
Rabbi Shmuli, born close by in Manchester, studied in the UK and Israel and was ordained by the Chief Rabbi of Israel in 2000. He worked in the Ukraine for nearly a decade establishing youth clubs across the former Soviet Union and then established a very successful publishing house in Dnepropetrovsk. He taught children, students and adults the Jewish way of life through formal and informal education.
Tzivia, studied in Israel and the U.S.A gained a BA and an MA through the Ministry of Education in Israel, thereafter she was employed by them in Israel and later on in Ukraine. After her marriage she relocated to the Ukraine with her husband Rabbi Shmuli. She became the deputy head of a girls college, promoting Judaism, Ivrit and the love of the land of Israel to all students. Due to the lack of Kosher products, her hobby cooking at which she excelled became very useful. People from all over came to the Brown's as Shabbat & weekday guests for the warmth, conversations and of course the delicious food.
We really look forward to meeting you personally!
Rabbi Shmuli & Tzivia
A home where all are welcome no matter background or affiliation.
A place where every Jew is family.
A Jewish student organisation at Liverpool that provides educational, social, and recreational programming for students and faculty.
A place where students socialize in a comfortable homesetting with great friends, superb food and stimulating discussion.
A forum where you can question your faith and not be afraid of judgment. – A haven to run to when you're stressed or lonely and need a true friend.
A centre for prayer and study, where you can gain a deeper understanding and appreciation of your Jewish heritage. – An academy providing texts and teachers for those who seek to learn.
An environment where being Jewish is fun
Throughout the ages, the Jews have filled their minds with the knowledge of the world and their souls with an awareness of the Divine. The intellect's role in the spiritual life of a Jew is an integral focus of Chabad's philosophy. At Liverpool Universities, Chabad strives to provide a level of religious education comparable to the universities traditions of quality learning. Students can take advantage of the chance to learn more about Judaism, its holidays and day-to-day observances. There are also ample opportunities for in-depth study of Jewish sources, including classical texts, like the Torah and Halacha, and Jewish mystical traditions like the Kabbalah and Chassidus. Study may be in groups or in individual sessions with the Rabbi. The values that lie at the heart of Chabad of Liverpool Univerpool are embodied in Torah and Jewish tradition. These values are:
The welcoming of every Jew
Creating a sense of belonging
Jewish learning
Spiritual growth and practice
Philosophy: The Chabad House at Liverpool Universities is based on the ideology of Chabad, which has at its foundation the encompassing mitzvah "to love every Jew as one loves himself" and to permeate that love with Acts of Kindness and Mitzvahs. It's our belief that every individual Jew has an indispensable contribution to make to the totality of the Jewish people. Chabad seeks to engage fellow Jews at their own pace and comfort level through innovative educational programs in all areas of Jewish life.
Inspired By The Lubavitcher Rebbe, Rabbi Menachem M. Schneerson, of blessed memory. For a glimpse into the Rebbe's legacy, click here
Future We believe that Jewish education and meaningful experiences are the grass-roots method to fighting indifference, apathy and assimilation that face our community today. For there to be a Jewish tomorrow, our students need to have a Jewish today!
Dear Parents/Students,
Going away to university is a priceless opportunity to mature and thrive intellectually, socially and politically. For Jewish students it is also an opportunity to deepen and broaden one's Jewish identity, and enhance the sense of committment and responsibility to the greater Jewish community – on campus, at home, nationwide and throughout the world.
Here, at Chabad of Liverpool Universities, we pride ourselves on creating a "home away from home" for all the Jewish students at the universities. Our home is open to the students, and we welcome them with the warmth of family. We strive to create meaningful relationships with a broad spectrum of students. Through our diverse and dynamic programming, we offer everything from weekly Shabbat dinners, exciting trips, fun social events, and engaging Jewish educational opportunities.
We understand that as a parent, there can be many worrisome moments while your child is away at university. That's why we want you to know that we're here. Feel free to contact us, introduce yourselves and let us know what's on your mind. Students, if you have any query, question or just want a friendly chat please get in touch with us. We'll be glad to assist in any way possible.
Sincerely,
Rabbi Shmuli & Tzivia Brown